In 2012, Highland Print Studio was commissioned to create an original piece of artwork to help enhance the ambience of the approach of the new cancer treatment facility at Raigmore hospital, Inverness.
Some of the hospital staff sang in a Gaelic choir and suggested that something which culturally tied to the Highlands would be most appropriate. They decided that a portion of a Runrig song would be suitable and  'An Ubhal as Airde' was selected. The chorus was felt to be most uplifting and thought provoking. The staff had already contacted Runrig to get permission to use their song.
"The song 'An Ubhal as Airde' was written in 1983, and it is particularly gratifying and humbling to find that the song can enjoy a legacy like this, in such a magnificent place of humanity, care and healing. This environment so perfectly compliments the themes and emotions expressed in song.' – Runrig
The Studio interpreted the words and music of Calum and Rory MacDonald in a way which bought to life the spirit of the song in a visual and tactile way. After much thought, it was decided to use the words themselves with a continual Highland landscape flowing through letters. This was carried out on linocut.
Sketches were drawn and then transferred on to linoleum. They were then hand cut into the lino using a variety of 'v' and 'u' shaped cutting gouges.
As it was the lino blocks themselves which formed the artwork, the initial ink was worked in to the cuts with brushes, before solid colours were applied to the surface of the lino with the roller or Bayer. Once dried, the lino was then bonded on to the panels and mounted in the hospital corridor.
This project was funded by Hospital Endowments.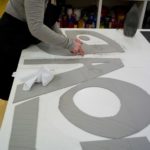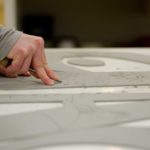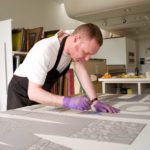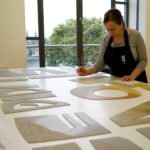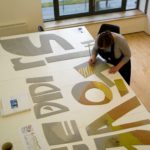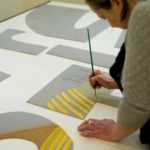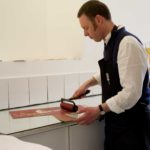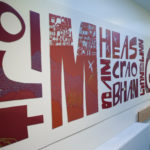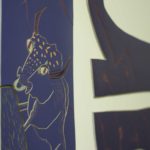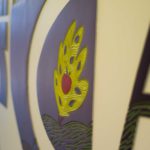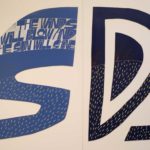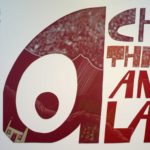 Back to projects