Our Studio
Here at our Studio in the heart of Inverness, we're committed to championing the art of printmaking. We hire out our fully equipped studio space to practicing artists, and offer courses and classes to anyone who'd like to explore this traditional art form.
Our studio space offers a range of tools and equipment for traditional print making, as well as modern kit including digital imaging equipment and gallery quality large format photographic print service.

Studio Tour
If you've not been able to visit us in person yet, you can explore our Studio right here, right now with our virtual tour.
To navigate through the space, click on the numbers on the right-hand side to move up through the floors of the Studio, then simply follow the onscreen arrows to move forward. To enjoy a full 360-degree view, use the arrows on the compass to turn around or change direction.
You can even take a virtual peek out of the windows and enjoy a glimpse of the River Ness, which flows past our Studio.

Using the studio
Everyone from professional artists to complete beginners are welcome at the Studio.
In order to make sure that everyone gets the most out of their time in the Studio and is able to work safely, we ask that anyone who is joining us for the first time spends some time with our team familiarising themselves with our set up and equipment.
For experienced printmakers with recent relevant experience, this will generally be a one-hour long induction session (£40).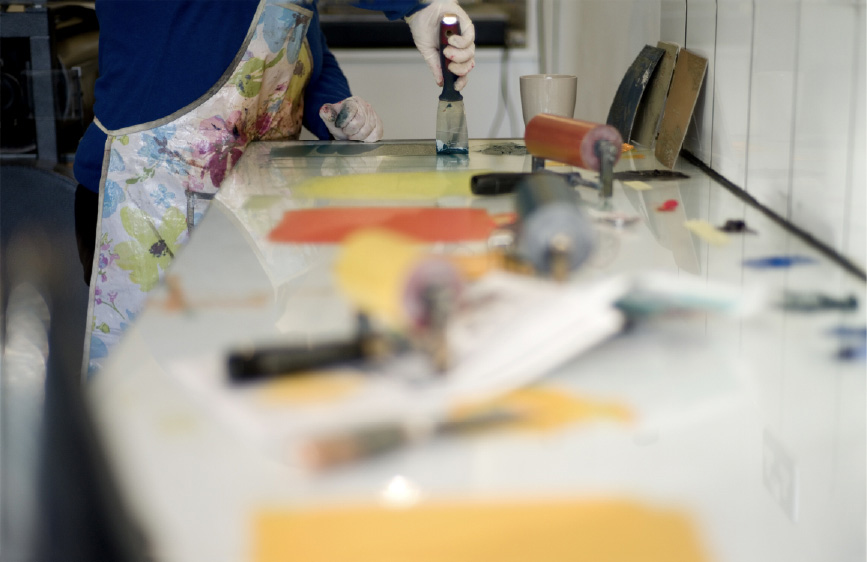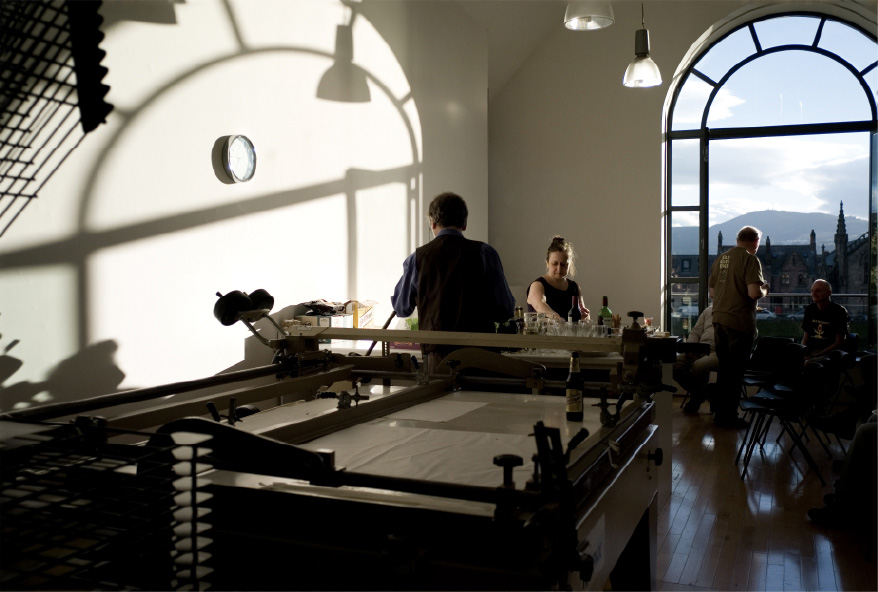 Refreshers with less experience will be asked to undertake a couple of one-to-one top-up tuitions (£38 per hour) before using the Studio. Once we understand your level of experience we will be able to advise on how many sessions may be required. Many of our classes are also suitable for those wishing to refresh their skills.
If you're new to the art of printmaking, we offer a range of classes and one-to-one tuition in a range of techniques. Most people are able to learn their chosen printing technique well enough to be able to safely enjoy creating their own work in the Studio after around 6 to 8 hours' tuition
CONTACT US BY EMAIL OR PHONE IF YOU WOULD
LIKE TO ARRANGE TO USE THE STUDIO.