We collaborated with Wejha Arts Center, Kuwait, to produce a fascinating exhibition and programme of creative events online (which you can now watch back below) after our project, From Alba to Arabia, was paused due to Covid restrictions.
Before Covid-19 put a halt to the project across the Gulf Region, which has a rich heritage and an exciting contemporary art scene, From Alba to Arabia had toured to three of the four Gulf Region venues with great success; Stal Gallery, Muscat, Oman, Alserkal Avenue, Dubai, UAE and Art Jameel, Jeddah, Saudi Arabia. The final stage of the exhibition, which should have been at Wejha Arts Center, Kuwait, is now available on this website until 1st February 2021.
The programme of events was supported by the British Council, DCMS and GREAT through the UK-Gulf Culture and Sport programme.
The opportunity to collaborate with these Gulf cultural organisations has been a remarkable, exciting and culturally enriching experience. It has been a privilege to get to know these Gulf countries better; their similarities and their differences; the unique identity of each country we visited. We are grateful for the hospitality we received and the interest in Scotland and its culture.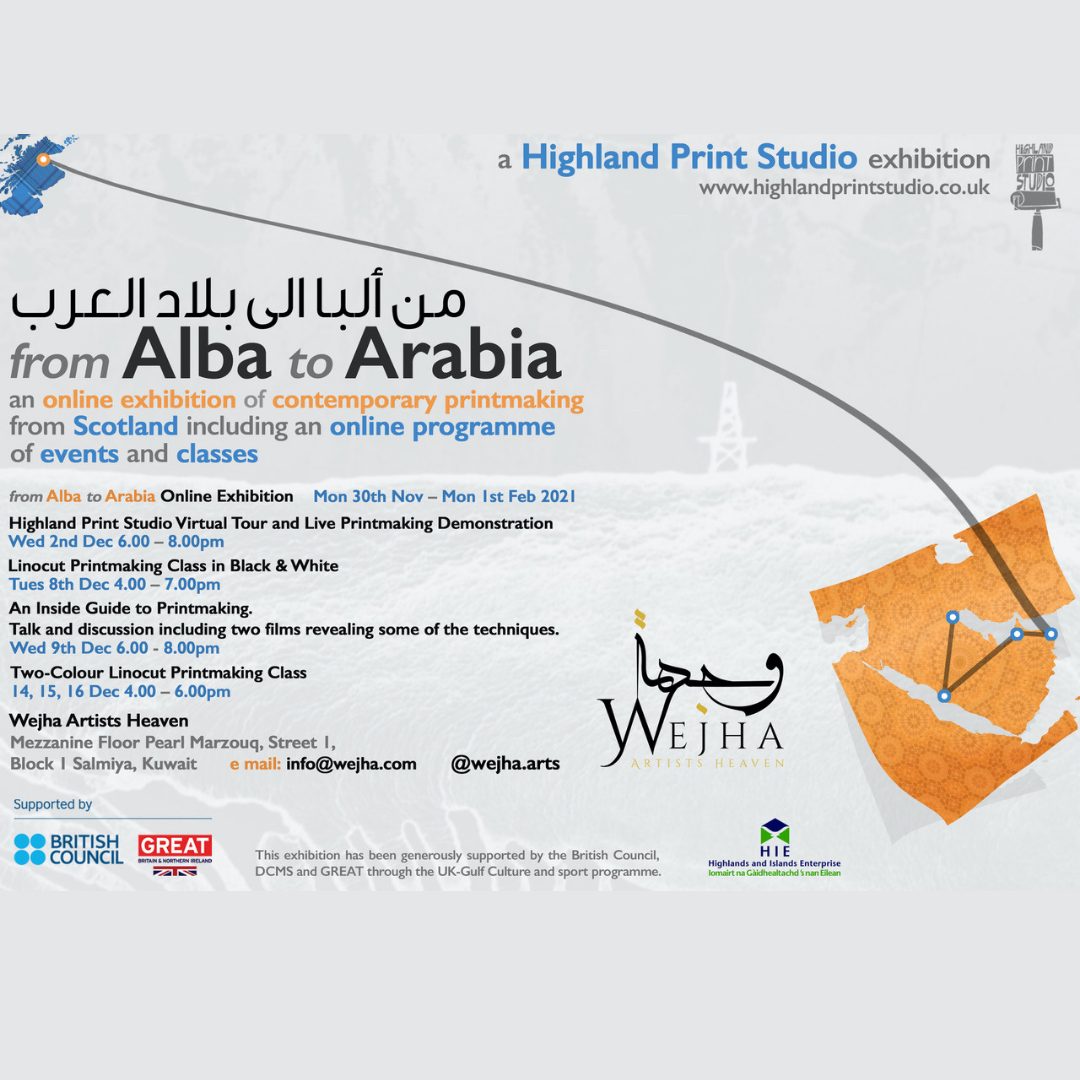 As we travelled across the region the one constant was the enthusiasm for the creative learning we were offering. There was such an appetite for it. We think this is an exciting time for contemporary visual art across the Gulf Region and we would be delighted if future collaborations came out of this amazing opportunity that we have had. It has been an enriching experience for Highland Print Studio. We are fortunate that we managed to get to three of our four venues before Covid impacted and grateful to the British Council for offering the additional support to enable the project to be moved online rather than cancelled at the last stage.
Launch event
We were delighted to launch our exhibition and programme of events on the 30th November with a live webinar with members of Wejha Arts Center and the British Council joining us. The below video contains Arabic subtitles.
Here is a message about the project from Michael Gordon, British Council Director, Kuwait.
Virtual Tour of Highland Print Studio
A guided tour of Highland Print Studio, with a live printmaking demo, as John, Studio Manager, shows how a two colour reduction cut lino print is produced.
Inside Guide to Printmaking
This video looks at works from the exhibition in etching and screen print and also includes two films showing how the techniques work.
For more information about any of the artists featured in this exhibition, please visit their websites.
Back to projects