Throw Up 20.18 Blog: https://throwup2018.wordpress.com
Football has its 'kick off', shinty it's 'throw up'.
'ThrowUp 20.18' is a visual arts project devised by Highland Print Studio in consultation with the Camanachd Association, Shinty's governing body. Four professional artists were commissioned and partnered with four clubs, resulting a series of original artwork inspired by the culture and heritage of Scotland's iconic indigenous sport of Shinty. This project was funded by Highland Culture Strategic Board's 'Highland Culture: Take Pride, Take Part' programme.
The appointed artists include John McNaught, Deirdre Nelson, Tom Smith (Lateral North) and Roddy Buchanan, who worked respectively with Skye Camanachd, Newtonmore Camanachd, Beauly Shinty Club and Fort William Shinty Club.
Throughout the 2017 and 2018 season, each artist engaged with their chosen club and its wider Shinty community. They researched into the club's history, with the help of the fans and players, and gained an insight into the game, its culture and the volunteers who commit their time and energy to their club.
Each artist, in collaboration with Highland Print Studio, produced a series of original prints that formed a contemporary visual art archive that will be a legacy for the clubs. Despite Shinty being an integral part of the Gàidhealtachd for centuries, there have been very few visual arts documentations of the sport.
After researching into their clubs, artists looked at different angles to create their series of prints. John McNaught looked into both past and present volunteers for Skye Camanachd and created 'Grafters' – a series of polaroid sized linocuts of all past volunteers which was accompanied by polaroid photos of present volunteers. He also looked at photographs of the 1st teams from 1895 and 1998 and recreated them with the 2018 first teams.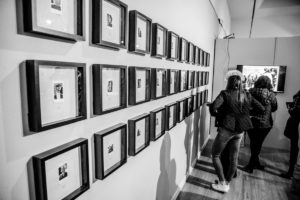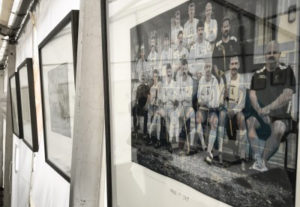 Deirdre Nelson focussed on Shinty scores and created blue and white knitwear from this data, with every blue line representing a score from the team. She wanted to do something to represent the players' partners, who often accompany them to games and are sometimes collectively referred to as SWAGs – Shinty Wives And Girlfriends. Deirdre printed this emblem onto tote bags for team merchandise.  Deirdre was also keen to produce a work that recognised all the volunteers that contribute to this purely amateur sport, from the players to the bakers, and her screenprint, 'How Many?' (People does it take to Run Newtonmore Camanachd), celebrates all the volunteers, from the players to the largest group, the bakers!
Deirdre also paid tribute to one of Newtonmore Camanachd's most famous players, David 'Tarzan' Richie, who is notable for having won 12 Camanachd Cup medals, a record he held alongside fellow Newtonmore player, Hugh Chisholm, for many years. Tarzan turned all his medals into a bracelet for his wife, which inspired Deirdre's polymer photogravure print, 'Shinty Love'.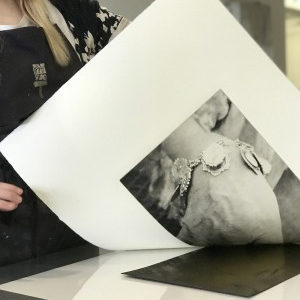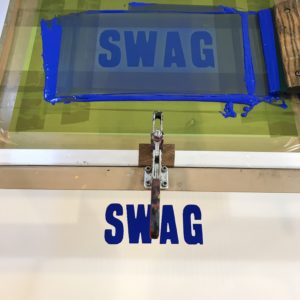 Fort William Shinty Club artist, Roddy Buchanan, chose to focus on the physical nature of the sport itself, photographing the Shinty players on the field as they knotted together while playing. Back at Highland Print Studio were he worked us on translate them into a series of polymer photogravure prints. The series of eight 'shinty knots' are two-colour prints, the stark colours help emphasis the physical clash of the players.
Tom Smith, worked with Beauly Shinty Club, and created a series of prints that portrayed the impact World War 1 had on the Club. He  created a huge linocut that was cut to portray a map of Beauly, which had stories embedded into it using augmented reality. Tom also produced a series of three prints from his research into this period of the club's history. While Tom was working with the team, Beauly Shinty Club produced a book to celebrate the club's 125th anniversary. Written by club secretary and Camanachd Association Director, Steven MacKenzie, it focused on the years 1992-2017, using archive photos and recollections from players and committee to recall the ups and downs over this period and Tom helped design the book.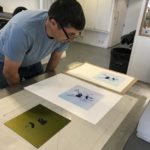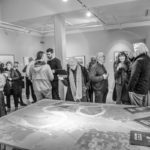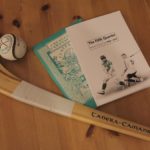 EXHIBTIONS
The exhibition of work, Throw Up 20.18, was launched in a marquee, pitch-side at the Camanachd Cup Final 20.18. It's launch in a more conventional visual arts venue was Inverness Museum and Art Gallery (IMAG) in March2019. That night ended with a terrific Q+A session hosted by Iain MacDonald and a panel consisting of three of the participating artists, Derek Keir (CEO), Keith Loades (President) and Steven Mackenzie (Vice-President) of the Camanachd Association.
Since then the work has been touring, all or in part, to venues across the Highlands.  John McNaught's work made its way over to Aros Community Theatre, Portree, in April 2019.
In tribute to the rivalry between both Newtonmore and Kingussie Shinty Club, Deirdre Nelson's work was exhibited at the Highland Folk Museum in Newtonmore in July 2019 and the rest of the artwork was shown at the Iona Gallery, Kingussie! Both venues hosted presentations on the project by the artists.
The work has also been exhibited in Oban at the Rockfield Centre, where it was accompanied by two inspiring talks by the voice of Shinty himself, Hugh Dan MacLennan. One talk was about the Shinty memories Project, which aims to use sport as a vehicle to help those who live with dementia, or poor mental health. The second talk was on the effects that both world wars had on the Shinty community.
The exhibition then made its way over to Fort William, where it exhibited at the Nevis Centre in September 2019. It was once again accompanied by a talk from Hugh Dan MacLennan and was joined by special guest, Deek Cameron – the man who scored the fasted ever Camanachd Cup Final Goal in 1992.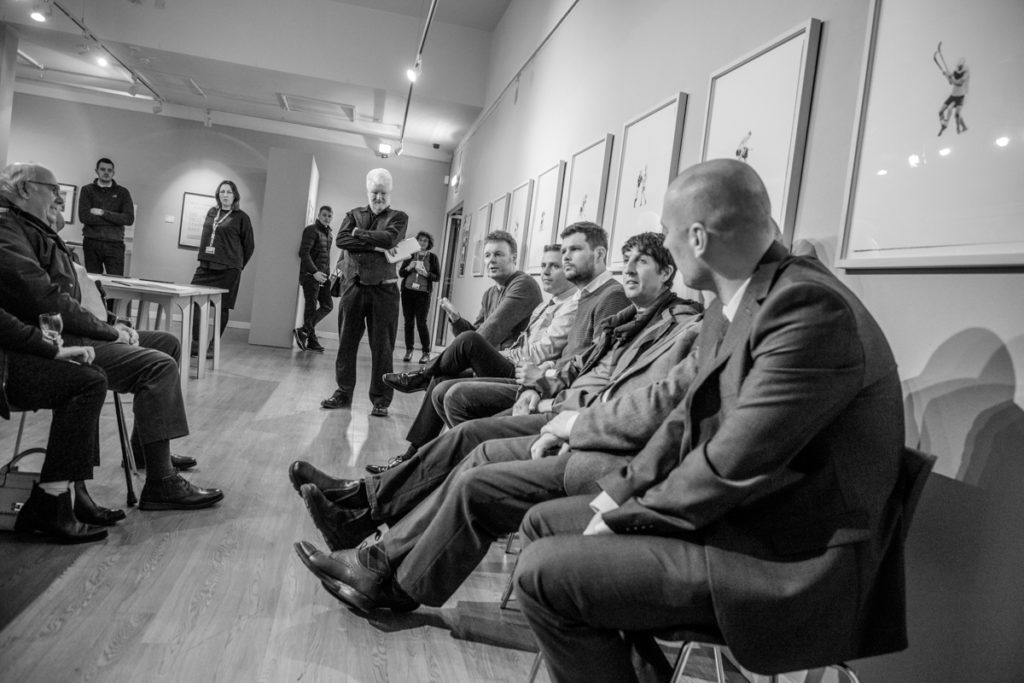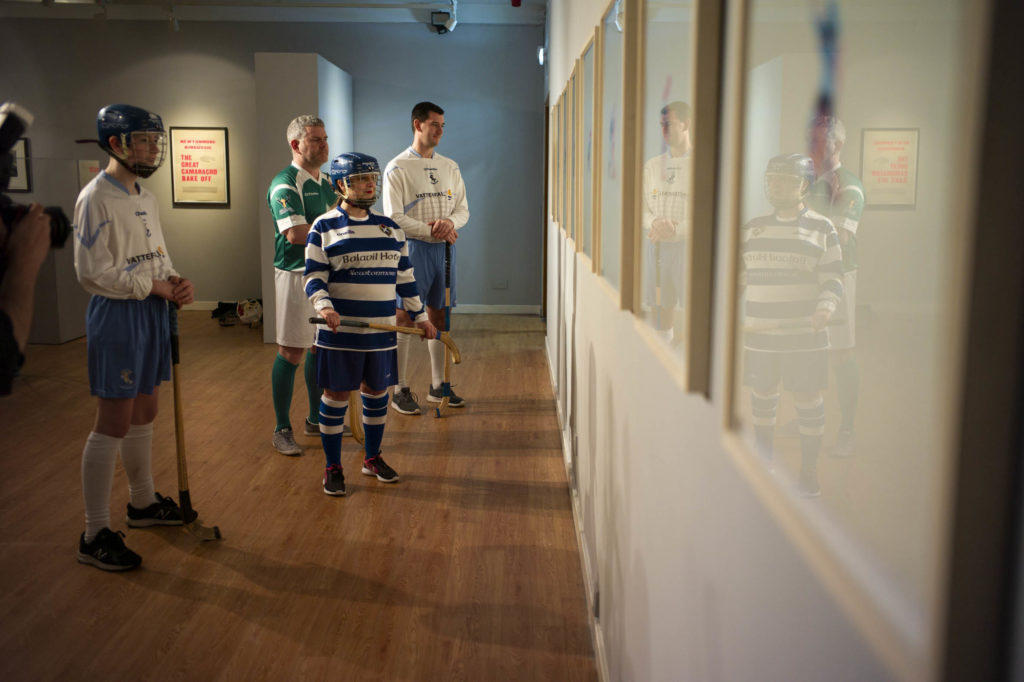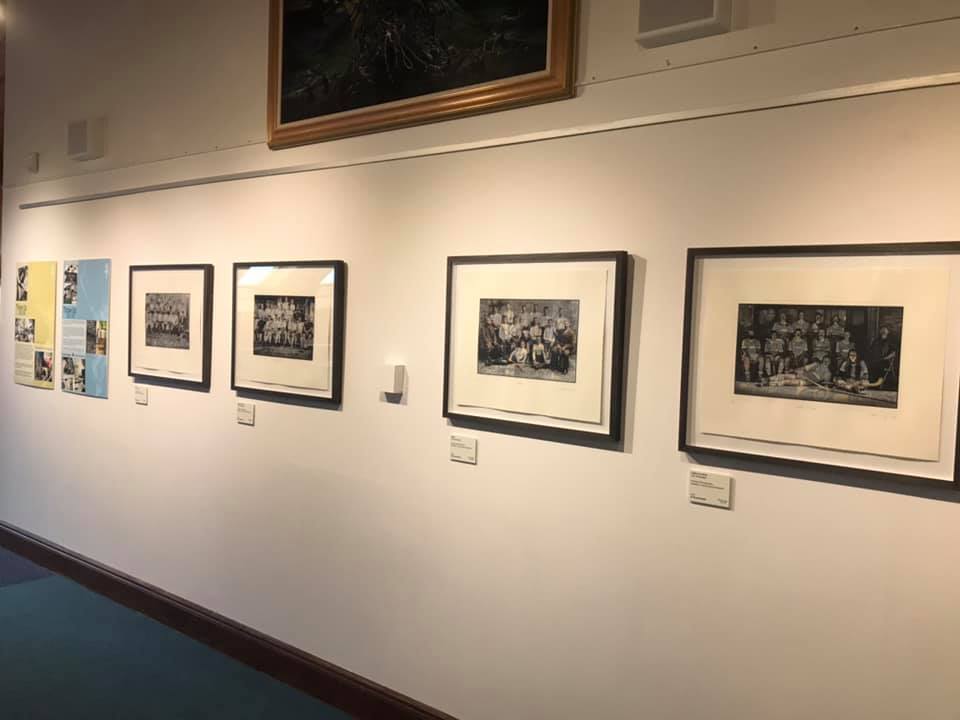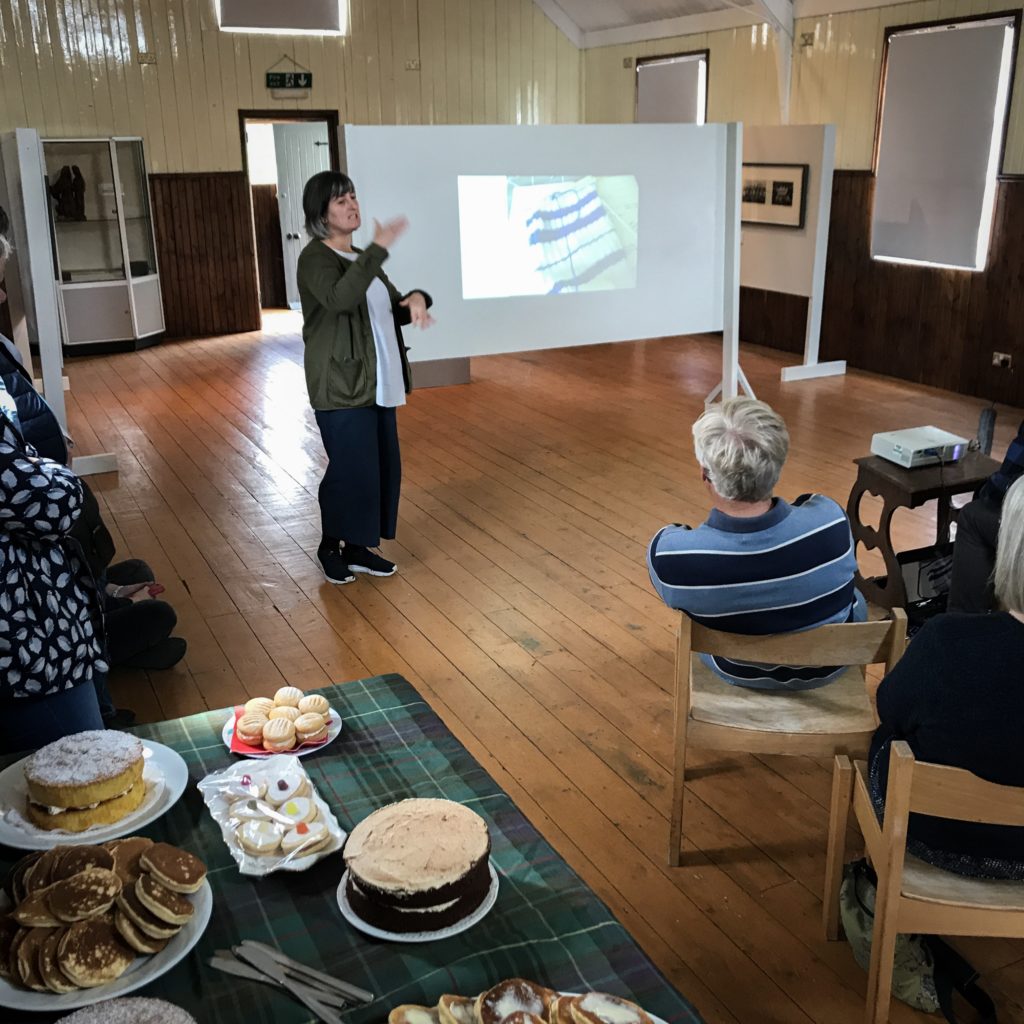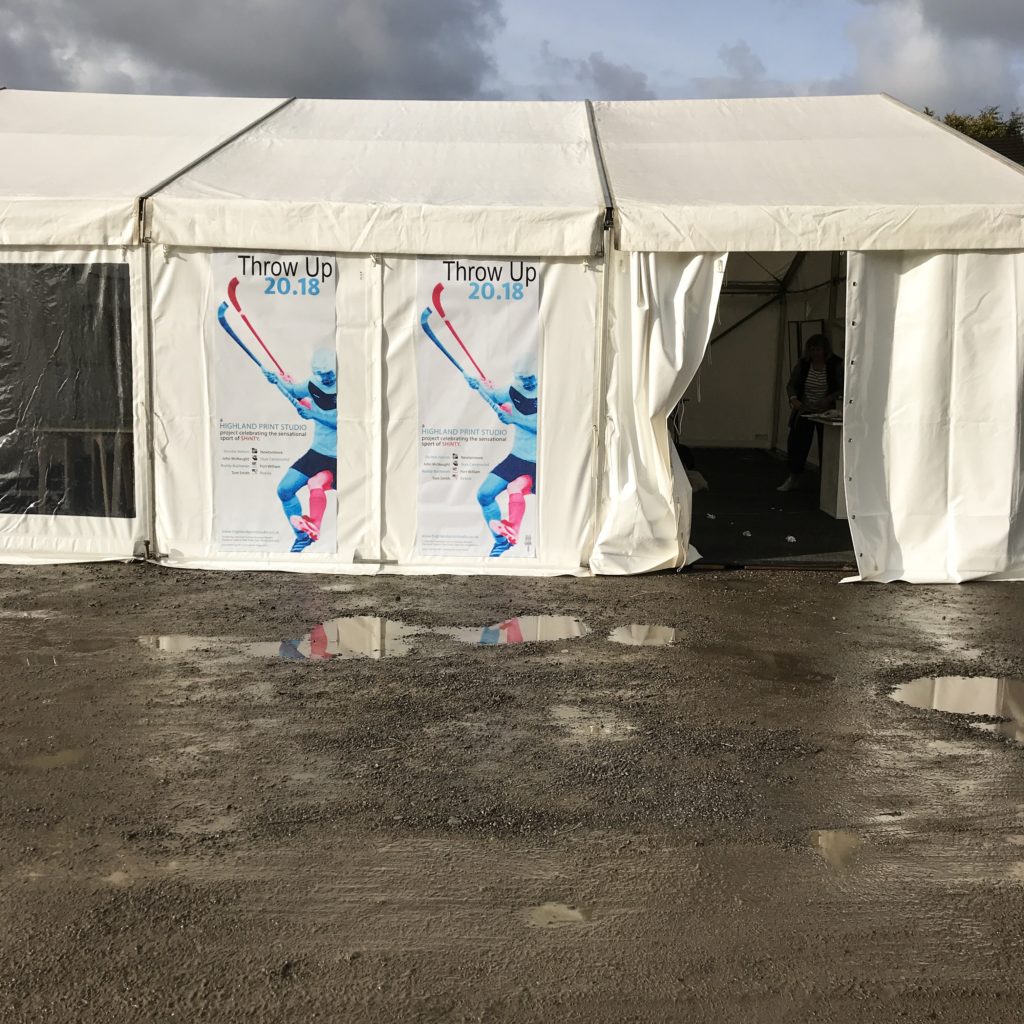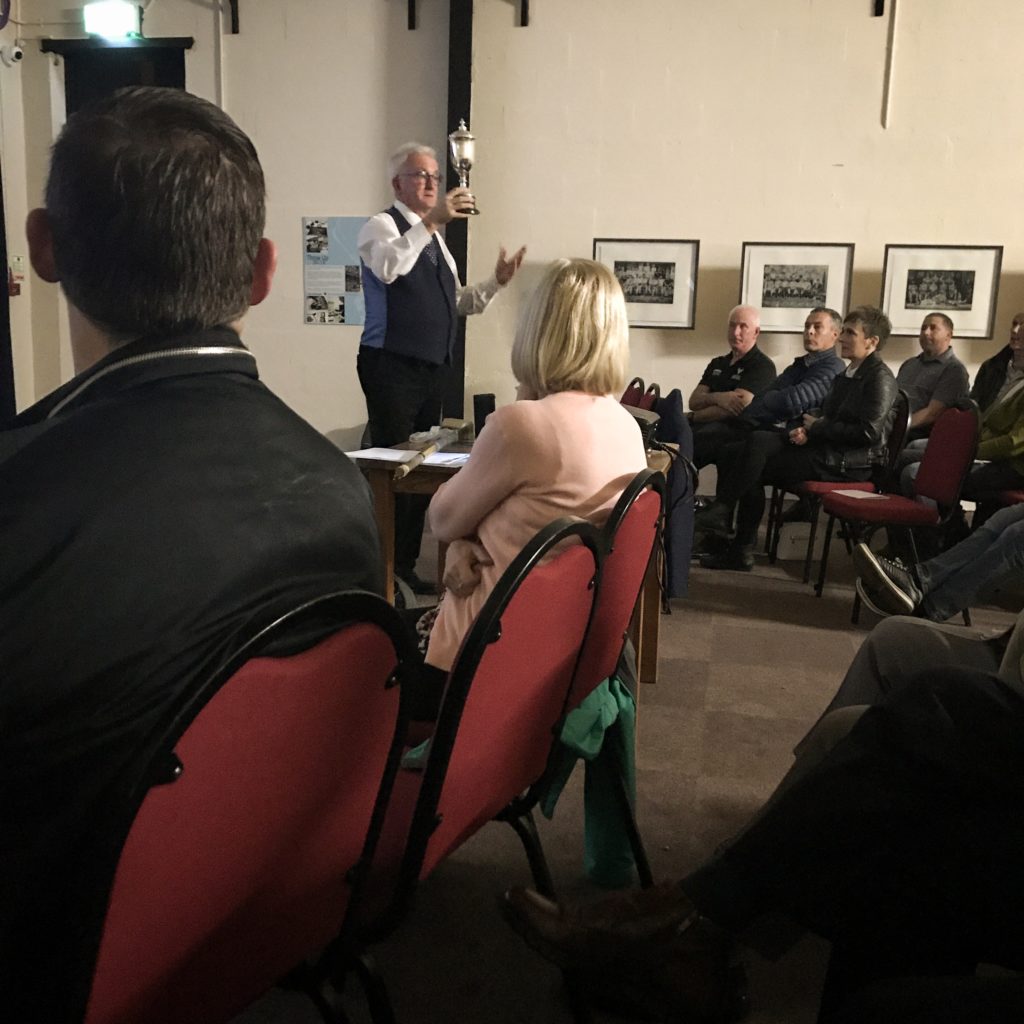 For more information on the project, please contact the studio at [email protected] or call 01463 718999.
Back to projects