Another wee dip into our archive has thrown up a project with the grand title of 'A Brief Lesson in Caledonian Antisyzygy'. We refer to it as our 'unsung heroes' versus 'much sung zeros.
John and I had already been thinking about projects inspired by unsung heroes, when one evening we went to a talk by the historian, Sir Tom Devine. The theme of the talk was this strange aspect of Scottish culture that we have made cultural icons of people who are famous for failure; such as Bonnie Prince Charlie, Mary Queen of Scots and William Wallace. However, Scotland has a hidden history of success; with no shortage of heroic figures to choose from. It is a simple and largely ignored fact that Scots have shaped the modern world in terms of, for example, science, economics and philosophy. So we decided to create a series of artists books, inspired by this contradiction – working with young people to make books on unsung heroes of the Highlands and with older people to create books on what we termed 'much sung zeros', those folk who appear on our shortbread tins; the tragic heroes we have, hopefully decreasingly, held so dear.
Firstly we found our unsung heroes. We then contacted a primary school local to the subject and asked if they would be interested in working with us to create the book. John worked with the pupils over a number of weeks, helping them to create the artwork and tell the story in their own words. A pattern started to form of how refreshing it was for pupils and teachers to be working on a project about their local heritage. At the time of the project, somewhat astonishingly, Scottish history was not taught in Scottish schools. Ironically, we ended up exhibiting the books right outside the Scottish Parliament debating chamber on the day that the introduction of Scottish Studies to the school curriculum was being debated. It was totally unplanned, but gave a wee edge to our first ever exhibition in the parliament building. Some of them loved it, some steered clear.
Drovers' Dogs was the truly heroic subject of the book created by the pupils of Kilchuimen Primary School. When we googled these two words, 'unsung heroes', we were taken aback when the world wide web threw up Dingwall Mart and their exhibition on droving; the practice of walking cattle over long distances to market. There was a gentleman drover referred to as an unsung hero, however our walk round the exhibition threw up the truly majestic unsung heroes of droving; drovers' dogs. These dogs, chosen for their intelligence rather than breed, would help their masters drive their cattle along the network of paths from all corners of the Highlands all the way to the trysts (markets) at Crieff then Falkirk and sometimes all the way to Smithfield in London. 11 miles a day; any more and the cattle would lose weight.
Once in Smithfield, the drovers would stay down to work the harvest. The dogs, however, would travel home; on their own, and occasionally with a wee note in their collar for the families back at home. As if that wasn't remarkable enough, the dogs would stop off to be fed at the inns they had stopped at on the long road down. Innkeepers would open the door to find dogs there sitting patiently for their dinner. The following year, the drovers reimbursed the innkeepers for their dogs' dinner. Written archives tell of travellers witnessing the dogs purposefully heading north.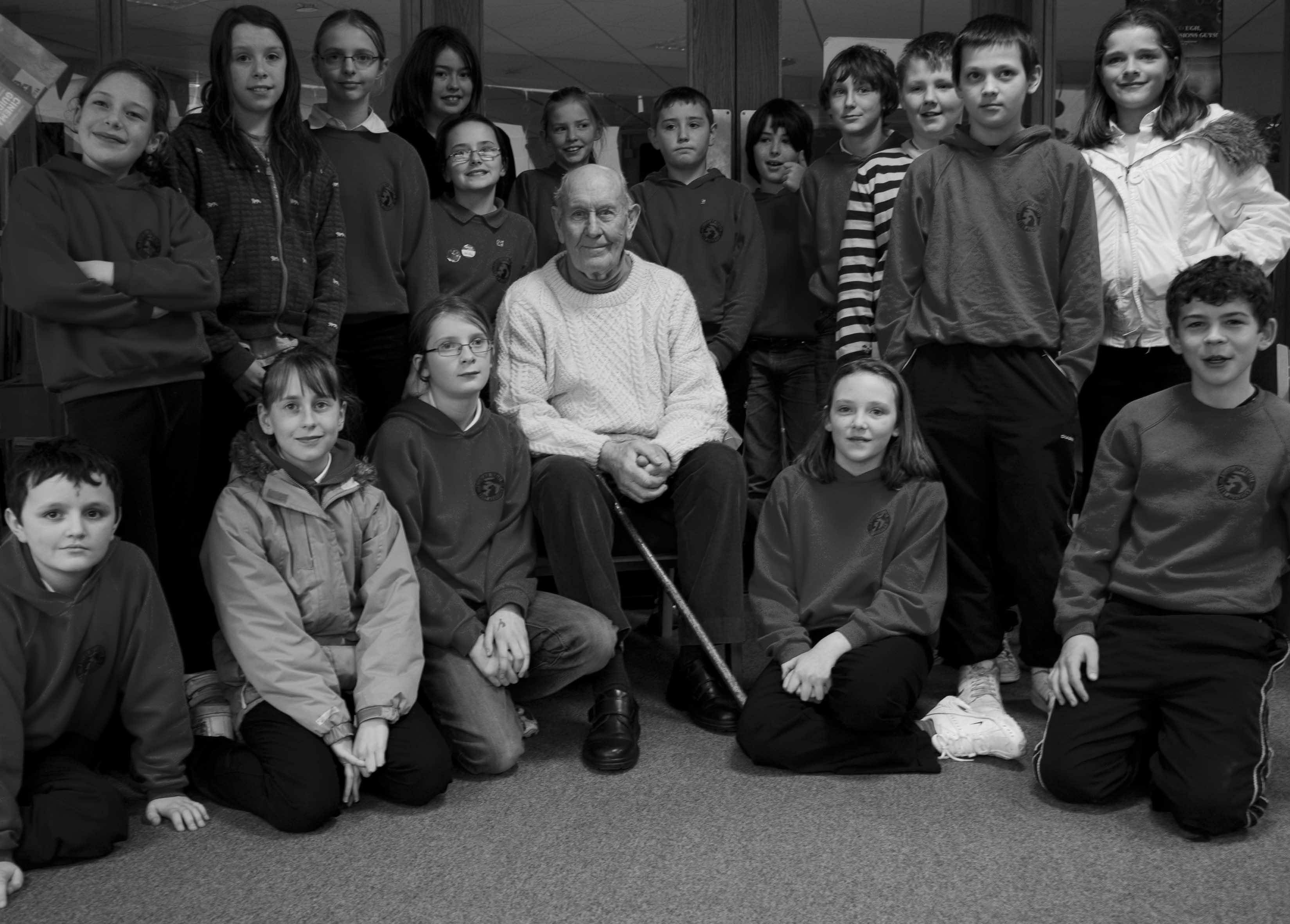 Kilchuimen Primary School were invited to participate because their home of Fort Augustus was a significant meeting point in the drove road network of the Highlands. The pupils walked part of their local drove road, interviewed a long-retired drover and wrote a heart-wrenching story of two dogs making their way back from London to Ullapool in the far north-west of Scotland. It's a story that would bring a tear to a glass eye. One of the dogs became seriously ill, but is desperately urged on by her travelling companion. I don't want to spoil the ending, but I would never have forgiven those kids if the dog had died.
Here are some images from the book…
Alison