We are delighted to have a guest blogger, Michael O'Donnell. We have fond memories of Mick's time in the Studio seven years ago, and it is great to see he is finally putting his printmaking into action. What took him so long?…
John Greig & Sons, Edinburgh 1810 (later becoming D & J Greig).
In 2013 I was to spend 5 days a week for 8 weeks in Inverness while undergoing radio therapy for prostrate cancer, just getting home at weekends. With treatment only taking 30mins a day I would have lots of time on my hands. I thought leisure centre, gym or banjo lessons. However the nurses told me swimming and fitness training wasn't advisable but fortunately my daughter Joanne ( Joanne B Kaar) had other plans for me, she enrolled me as a member of Highland Print Studio together with a package of instructions and printing materials. The banjo lessons nicely took care of a couple of evenings a week. Having been trained as an engineer then self employed as a wood turner for the previous 40 years this printing thing was going to be a bit scary as my 'artistic' talents are somewhat limited.
My first visit started with familiarisation of HPS, the equipment and what they had to offer. This was followed by a detailed discussion with John, my long suffering and patient tutor, as to what approach would the best for me to take. John then suggested trying photogravure as it is a process which would utilise my photography and Photoshop skills. So my venture in to printmaking started.
I took a few pics around the streets of Inverness and then back home I searched through photos which I thought would be interesting and suitable. I it wasn't long before I came up with the perfect picture, my 127lb halibut. (well I was the ghillie on the left, mid 1970's). But then I thought it might be better to start with pictures taken specially for the process. With suggestions from my (artist) wife Liz we came up with crofting & landscape themes including our cockerel, eggs and feathers.
On Monday morning I was ready to go, with help and guidance from John I edited the pictures made the plates then ventured on to the printing process. The major piece wasn't going to be a single print but a run of 6 using 3 plates which I could then proudly present to family and friends. A repetitive process in which hopefully I could develop some printing skills.All too soon it was my last Friday afternoon and I hadn't started on the Halibut, but I did just manage to complete the major print run before rushing to the station to catch the last train to Thurso. Back home, chuffed to pieces with my work I proudly framed and hung my pictures.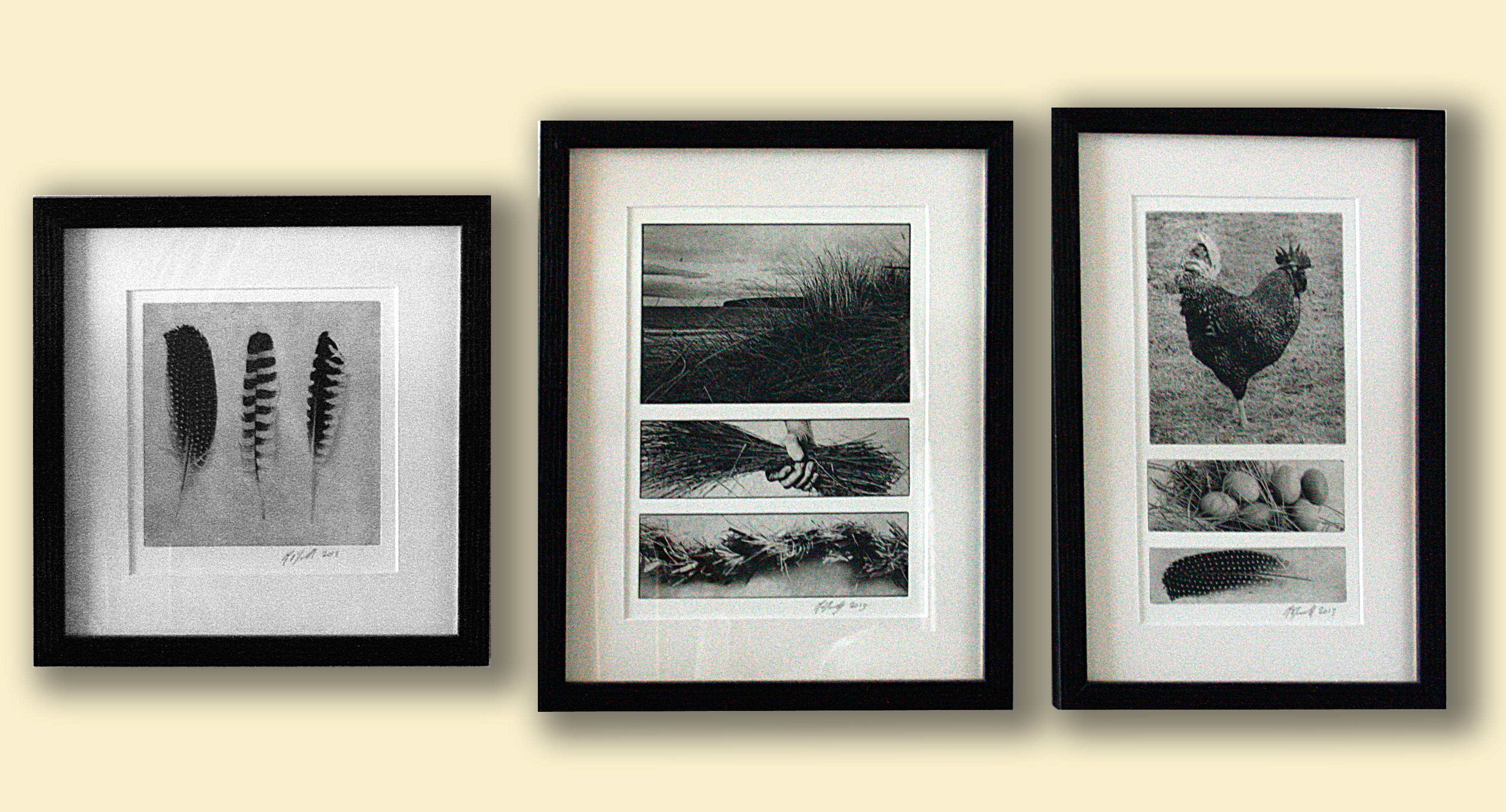 Dabbling in printing does run in the family, in 2002 my wife Liz (a retired Art teacher) took a summer course at Edinburgh College of Art on print making. My daughter Joanne made her initial contact with HPS soon after graduating from Manchester Metropolitan University with an MA and she has been involved with them on and off in many different roles over the past 25 years. The most recent project was 'Mirror Images'. Working on a theme 'A Sense of Place', artists representing the Highland Print Studio created artworks for this international project.
In her own studio Joanne has been working on Drypoint printing using a press Joe made from a slip roll machine for shaping sheet metal. The rollers are only about 20mm diameter and there is no bed so there were considerable limitations to the process. Even so Joanne produced work for an exhibition at Inverewe Gardens as part of an artist residency programme in 2018.
The printing activities of all three of us were brought together thanks to a gift from artist /printmakers Sue Jane Taylor and Ian Westacott from Dornoch. In around 2010 they asked us if we would like an old printing press which had some bits missing or broken and would require restoration. The press was made by John Greig & sons in Edinburgh in the early 1800's making it around 200 years old. Sue & Ian had rescued the press in Edinburgh back in 1998 when it was destined for a skip. 
It sounded like a engineering challenge so we gladly accepted the gift, brought it home to Caithness where it languished in my studio, a project awaiting attention. Last winter I built a new workshop which would give me much needed space for my own projects, primarily my old grey Fergie tractor and my fishing boat. Then earlier this year with self-isolation from Covid19, both time & space were available, no better time to start the press project. With the press project I was fortunate that everything was available very close at hand. It became a village project. My neighbour on the south side, Granville Broughton, had just commissioned his sand blasting facility and was able to clean the two frames and put on a primer coat for me. I then set up a spray area in my workshop to give them further tough finishing coats. The 4 cross bars which held the frames together were missing, two of the wooden spokes were broken, there was no bed and we decided that it would need cross braces to give the press extra stability. That's where my other neighbour Keith Parkes on the north side came in. Keith made blanks for the broken handles, provided the steel for the cross bars and braces, plus a laminate for the bed.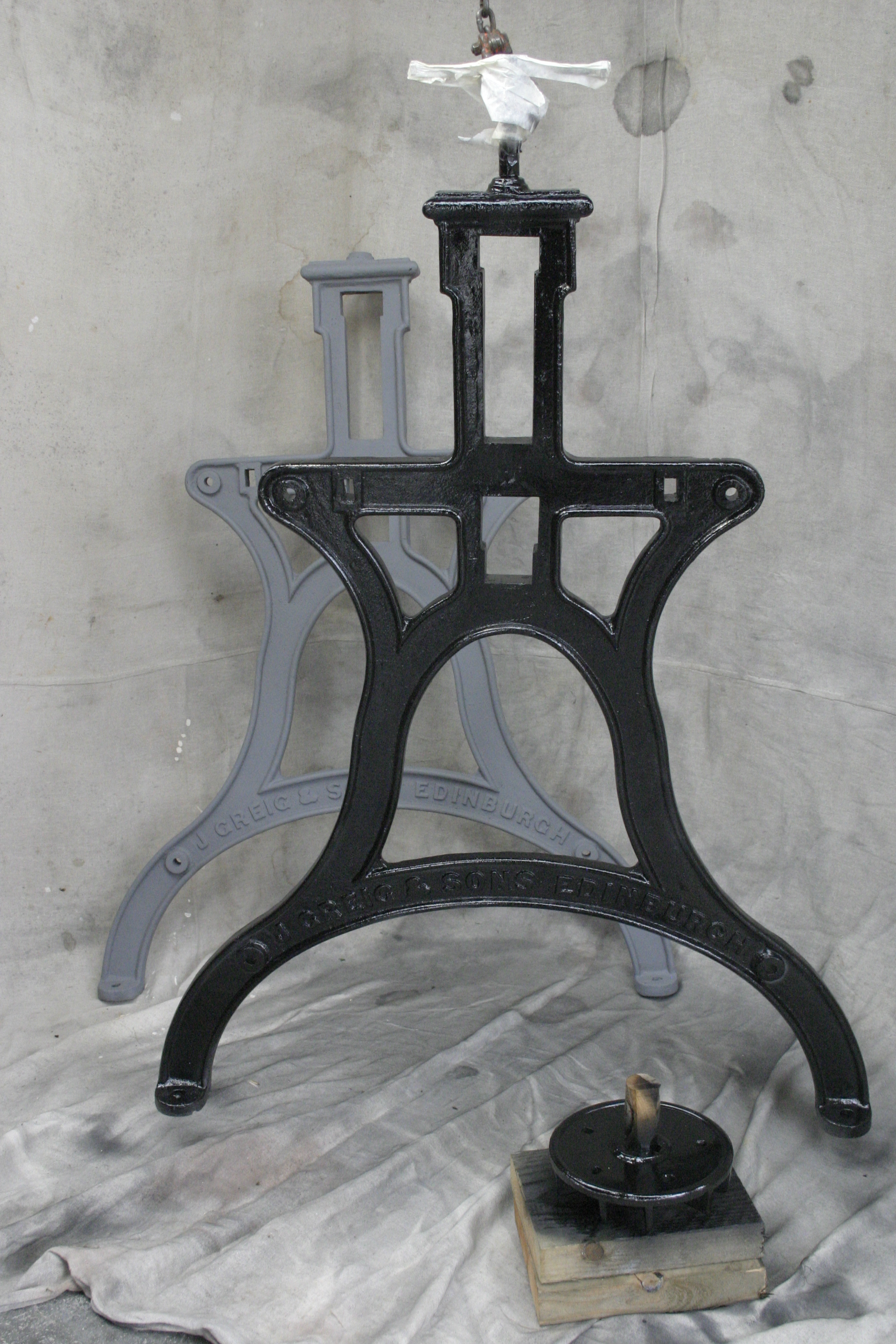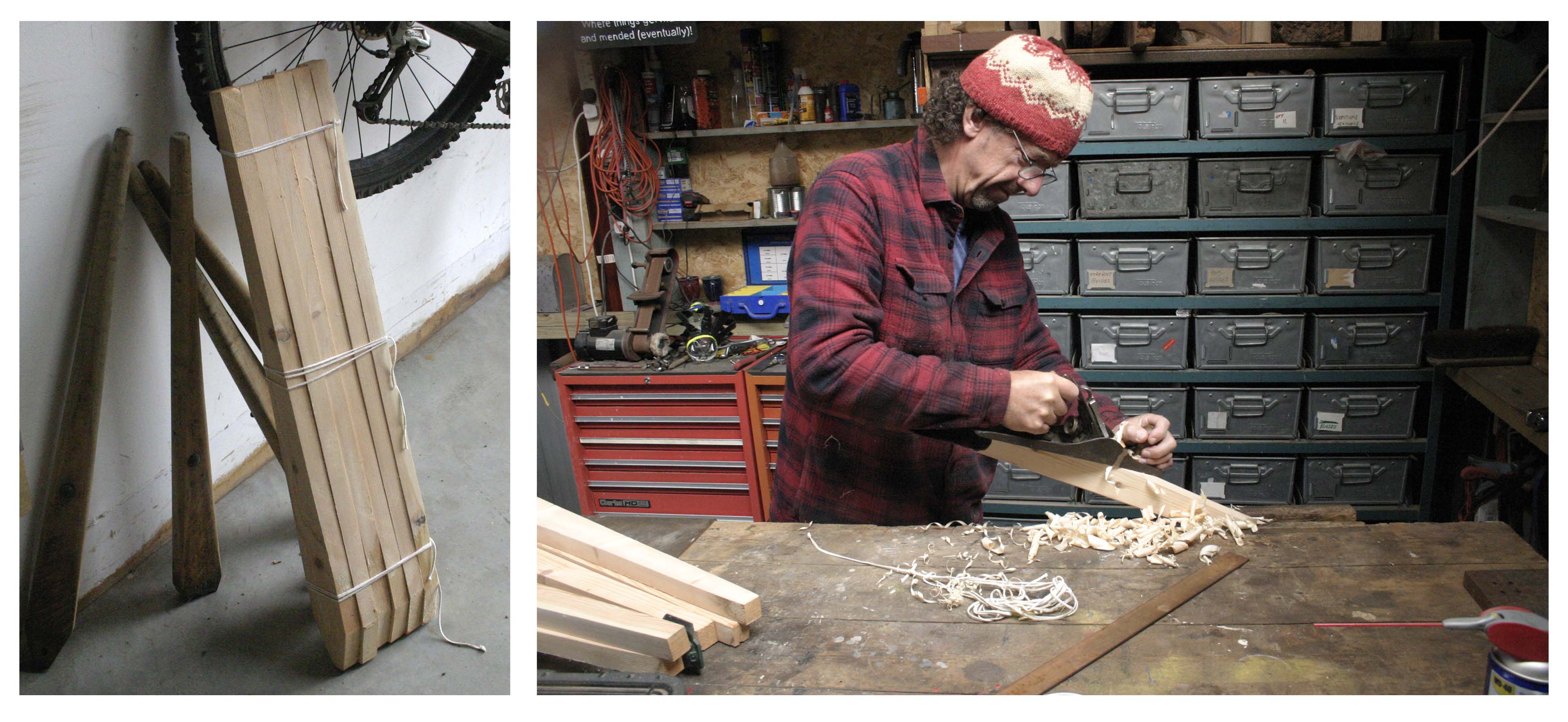 Now it is up to the family. Joe (son-in-law) came round, shaped and polished the spokes, made the cross bars, made the braces, made a pressure pad that the screw down bolts fitted in to, and made a key for the hand wheel. Joe also cleaned the rollers and bearings. Joanne highlighted the manufacturer's name on the castings in gold. It was beginning to look like something special.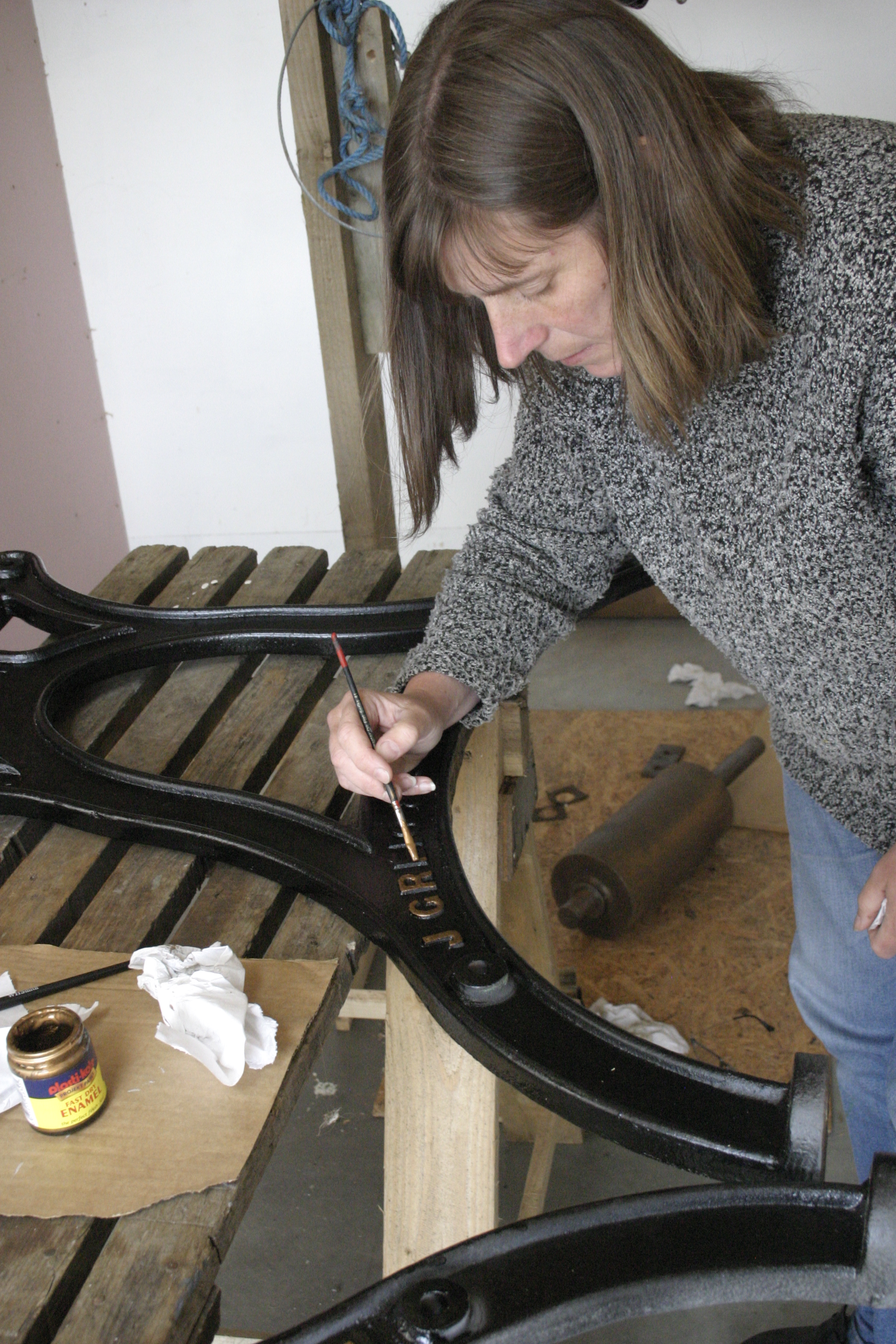 The assembly was to be the tricky bit because the rollers, particularly the large one, were extremely heavy. We set up a frame work, in the studio, to hold one side of the press with a bar across the top to which we could attach a small hand operated winch to lift the rollers in place. First the small roller with the extended shaft for the hand wheel, this allowed us to put the other side of the press in place to support it. Then the large roller was lifted into place and the side frame slid nicely into position.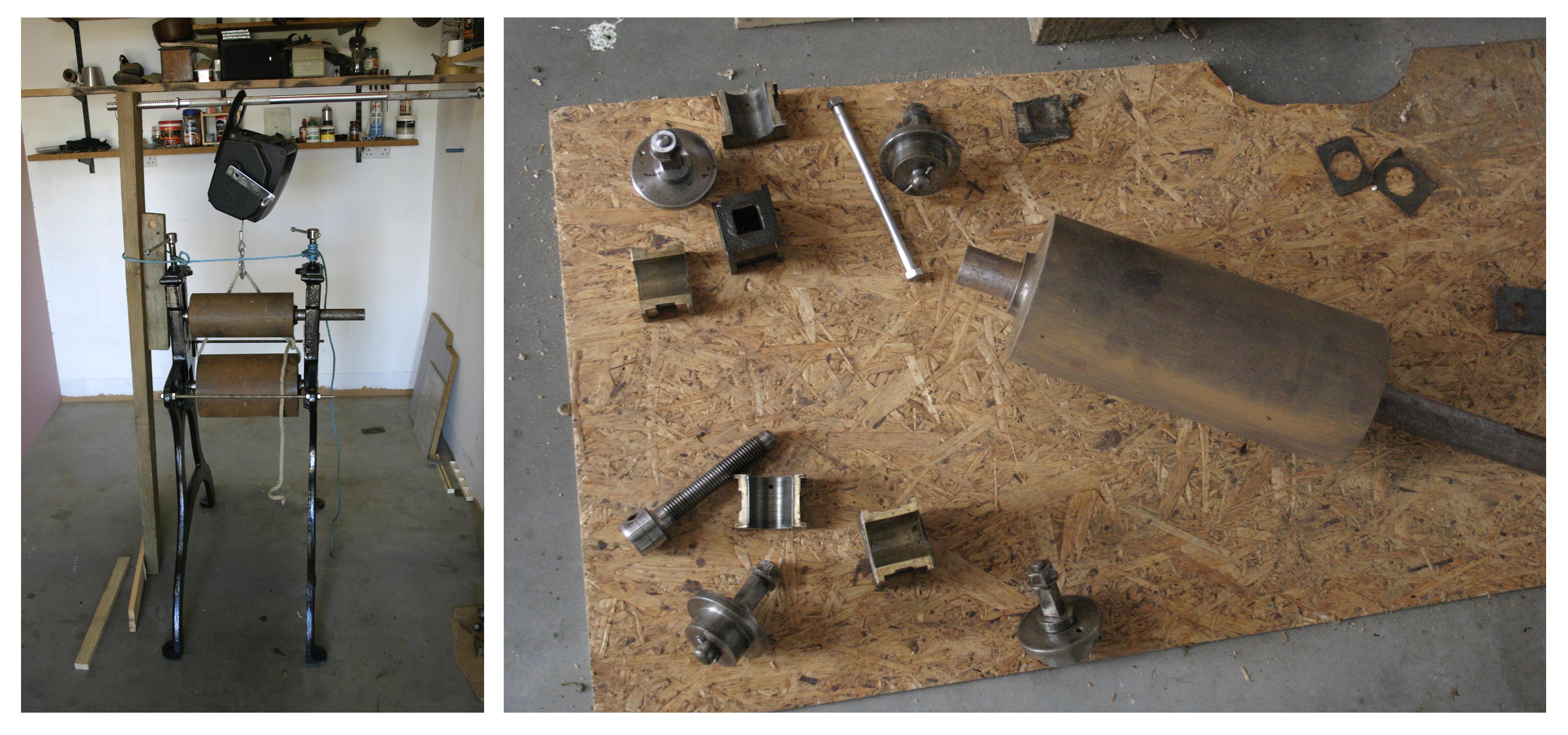 We carefully checked the alignment of the frames and rollers before locking in position. The bed rollers were adjusted to align with the bottom roller then the bed put in place and the top roller lowered on to the bed. The final piece was to fit the hand wheel. Job done and the press looks magnificent.
I set my mind on being the first in the family to use the press and the first print to be my 'Fish'. fighting off all other contenders. Fortunately Joanne agreed and sent the digital image to John & Alison at HPS who were happy to make the plate for us.
Joanne stocked up the studio with inks, rollers, paper and all the necessary materials to start printing.
So for the first time in 7 years I am in what is now my own print studio ready to continue where I left off. With guidance from Joanne, the paper was soaked, the plate inked up, laid on the press, then with a turn of the great hand wheel I had the first print of the Halibut ….
Drum roll here ………….  but the paper ripped(wrong paper). Took stock, had a think and a drink, then with a bit of fine tuning the third one was perfect. We were really pleased.
Joanne did some of her drypoint prints and then she worked with 6yr old grandson Kai using drawings on foam board. The press is now a permanent fixture in what has become a splendid Printing Studio.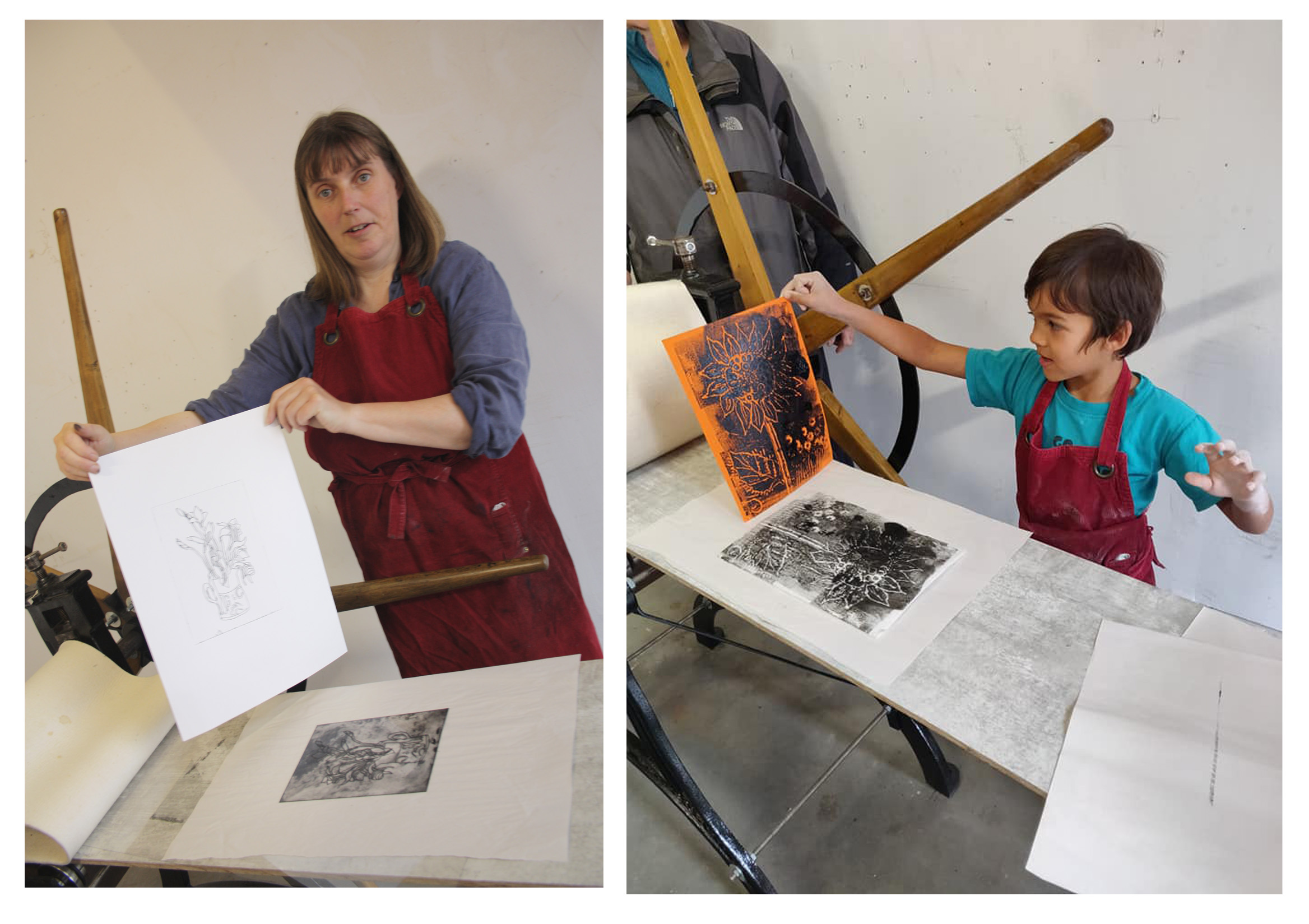 Michael O' Donnell
Sept 2020